San Gorg Preca (1880–1962)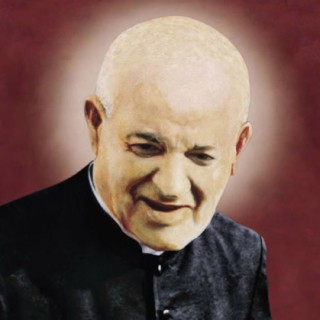 Ġorġ Preca was born in Valletta, Malta, on 12 February 1880. He was the seventh of nine children. Early in his childhood, his family moved to Ħamrun, where he started serving Mass as an altar boy. Preca studied at the Lyceum, considered the pre-eminent secondary school in the island. Preca then entered seminary, where he excelled, especially in Latin. He was eventually ordained a deacon. However, he was subsequently diagnosed as suffering from lung failure. The prognosis was not good, and he was even discouraged from buying vestments or a missal in preparation for the priesthood. However, he made remarkable recovery, and was ordained on 22 December 1906.[3] Preca attributed his cure to the intercession of Saint Joseph, and even joked later in his life that "My father has died, the professor has died and I, with just one lung, am still alive to teach people!
Saint George Preca has been likened as a successor to Saint Paul's evangelical work on the island of Malta.
While still a student, Preca had begun writing a Rule in Latin for use in a society he was planning, which would be a confraternity of "permanent deacons."[b] Soon, however, Preca modified this project into a less concretely defined group of well-informed young men who would then be able to spread Christian doctrine on Malta. Preca was inspired when he heard the sacristan teaching children about God, and he said a heresy ("God made himself"). After this episode he was determined to create this society. One young man in particular, Ġeġè Borg, eventually became the first Superior General of Preca's society.
On 7 March 1907 Preca rented a house on Fra Diegu Street in Ħamrun. It was a small house, and there he began gathering young men and teaching them catechism. It was immediately evident to him that ignorance in religious matters was astonishingly prevalent in Malta. Preca's co-workers in the newly formed Society for Christian Doctrine were called, according to hierarchy, papidi, Apostles, and then soċi. Preca's task was formidable. He directed a society of laymen who, while teaching catechism, needed to be instructed themselves. Furthermore, the very idea of training laymen to spread Church doctrine was considered revolutionary. Some went so far as to accuse Father Preca of insanity.
These fears were the cause of many clashes with the Church curia. In 1909, Preca was ordered to close down all his houses, as the bishops of Malta feared that the laymen trained by his society were not well-educated enough. Soon the curia's order was retracted, but it took until 1932 for Archbishop Mawru Caruana to approve of the society. Today, the Society consists of approximately 110 centers and 1100 members. Altogether, it is responsible for about 20,000 young men and women in the Maltese islands, in Australia, Peru, the Sudan, United Kingdom, Kenya and Albania.
On 21 July 1918, Ġorġ Preca joined the Carmelite Third Order, in the Carmelite house at Santa Venera. He professed as a member of the same Third Order on 26 September of the following year, assuming the name Franco, after the Carmelite Blessed Franco of Siena.
Preca was nominated as a secret Papal Chamberlain with the title of Monsignor in 1952, but was reportedly unaffected completely, as worldly things did not concern him. In 1957, Preca wrote the Luminous Mysteries of the Rosary, declared an official meditation of the Rosary by Pope John Paul II years later. In 1961, after a whole lifetime in Ħamrun, his failing health forced him to move to his housekeeper's home in Santa Venera. She was Nelly Bartolo, and had known Preca since before the war, listening to his daily sermons in il-Ħamrun. Preca, who by then had no earthly possessions, except for a single pair of shoes (a lace from which would prove instrumental in his becoming a saint), lived there for one year exactly to the day, dying on 26 July 1962. For years, Bartolo kept all his belongings neat and tidy as if he were still present in the household.
Father Ġorġ Preca came to the attention of the Ordinary Congregation of the Cardinals and Bishops of the Congregation for Causes of Saints, which examined the scientifically unexplainable healing of Charles Zammit Endrich in 1964. Zammit Endrich had suffered from a detached retina of the left eye. The healing was declared as miraculous, and was attributed to the intercession of the Father Ġorġ Preca[1] after Zammit Endrich prayed to him and placed a piece of the priest's shoelace under his pillow. The supposed healing took place outside of a hospital, and so was overseen only by the personal doctor of Zammit Endrich, Dr. Ċensu Tabone. This fact was considered unimportant in the canonization process.
On 24 June 1975, Archbishop Mikiel Gonzi issued a decree initiating the process of Preca's canonization. He was declared "venerable" on 28 June 1999, and on 27 January 2000, Pope John Paul II signed the decree which officially confirmed the Zammit Endrich healing.
In a ceremony in Floriana, Malta on 9 May 2001, Father Preca was beatified by Pope John Paul II.
On 23 February 2007 during the Vatican consistory, Father George Preca was proclaimed the first Maltese Catholic saint. He was canonized in Rome on 3 June 2007 along with three other new saints. In his homily, Pope Benedict XVI called Saint George Preca "a friend of Jesus", and at the end of the celebration, he spoke in Maltese, saying the newly declared saint is the second father in faith of the Maltese and Gozitan people.