Dag Hammarskjold (1905–1961)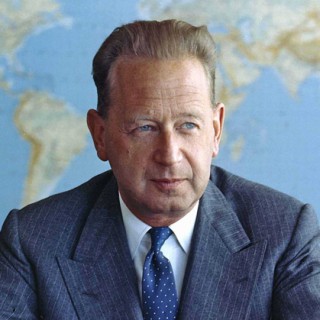 Dag Hammarskjöld was born in Jönköping, although he lived most of his childhood in Uppsala. He was the fourth and youngest son of Hjalmar Hammarskjöld, Prime Minister of Sweden (1914–1917), and Agnes Almquist. His ancestors had served the Swedish Crown since the 17th century. He studied at Uppsala University where he graduated with a Master's degree in political economy and a Bachelor of Law degree. He then moved to Stockholm.
From 1930 to 1934, he was a secretary of a governmental committee on unemployment. He also wrote his economics thesis Konjunkturspridningen (The Spread of the Business Cycle) and received his Doctorate from Stockholm University in 1933. In 1936, Hammarskjöld became a secretary in the Bank of Sweden and soon he was an undersecretary of finance. From 1941 to 1948, he served as a chairman of the Bank of Sweden.
Early in 1945, he was appointed as adviser to the cabinet on financial and economic problems, and coordinated government plans to alleviate the economic problems of the post-war period.
In 1947, Hammarskjöld was appointed to Sweden's Ministry for Foreign Affairs, and in 1949 he became the State Secretary for Foreign Affairs. He was a delegate in the Paris conference that established the Marshall Plan. In 1948, he was again in Paris to attend conference for the Organisation for European Economic Co-operation. In 1950, he became a head of Sweden delegation to UNISCAN. In 1951, he became a cabinet minister without portfolio and in effect Deputy Foreign Minister. Although Hammarskjöld served with a cabinet dominated by the Social Democrats, he never officially joined any political party. On December 20, 1954, he was elected to take his father's vacated seat in the Swedish Academy. In 1951, Hammarskjöld became vice chairman of the Swedish delegation to the United Nations General Assembly in Paris. He became the chairman of the Swedish delegation to the General Assembly in New York in 1952.
Hammarskjöld outside the UN headquarters in New York City. When Trygve Lie resigned from his post as UN Secretary General in 1953, the Security Council decided to recommend Hammarskjöld to the post. It came as a surprise to him. He was selected on March 31 with the majority of 10 out of eleven states. The UN General Assembly elected him in the April 7–10 session, by 57 votes out of 60. In 1957, he was re-elected.
Hammarskjöld started his term by establishing his own secretariat of 4,000 administrators. He set up regulations that defined their responsibilities. He insisted that the secretary-general be able to take emergency action without the prior approval of either the Security Council or General Assembly.
During his term, Hammarskjöld tried to soothe relations between Israel and the Arab states. In 1955, he went to mainland China to negotiate the release of 15 US pilots who had served in the Korean War and been captured by the Chinese. In 1956, he established the United Nations Emergency Force (UNEF). In 1957, he intervened in the Suez Crisis.
In 1960, the former Belgian colony and now newly-independent Congo asked for UN aid in defusing the escalating civil strife. (See Congo Crisis). Hammarskjöld made four trips to the Congo. His efforts towards the decolonisation of Africa were considered insufficient by the USSR; in September 1960, they denounced his decision to send a UN emergency force to keep the peace. They demanded his resignation, and the replacement of the office of secretary-general by a three-man directorate with a built-in veto, the "troika". The objective was, citing the memoirs of the Soviet leader, Nikita Khrushchev, to "equally represent interests of three groups of countries: capitalist, socialist and recently independent."[2] Hammarskjöld denied Patrice Lumumba's request to help force Katanga to rejoin the Congo, causing Lumumba to turn to the Soviets for help.
Flight path of Hammarskjöld's aircraft and the decoy, September 1961In September 1961, Hammarskjöld found out about the fighting between non-combatant UN forces and Katanga troops of Moise Tshombe. He was en route to negotiate a cease-fire on the night of September 17-18 when his DC-6B plane (SE-BDY) crashed near Ndola, Northern Rhodesia (now Zambia). The crew had filed no flight plan (for security reasons), and a decoy aircraft (OO-RIC) went (via a different route) ahead of Hammarskjöld's aircraft. He and fifteen others perished.