Dame Barbara (Mary), Baroness Jackson of Lodsworth Ward (1914–1981)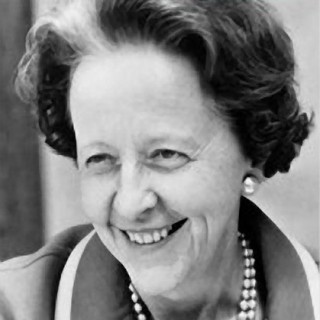 Barbara Ward was born in Heworth, Yorkshire on 23 May 1914, but her family soon moved to Felixstowe. Her father was a solicitor with Quaker tendencies, while her mother was a devout Catholic. Their daughter went to a convent school before studying in Paris: first at a lycée, then for some months at the Sorbonne before going on to Germany. Though she had once planned to study modern languages, her interest in public affairs led to a degree course in politics, philosophy, and economics at Somerville College, Oxford University, from which she graduated in 1935.
In 1950 Barbara Ward married Australian Commander Robert Jackson, an administrator for the UN. Their son Robert was born in 1956, the same year that his father was knighted. Ward continued to use her own name professionally and was not widely known as Lady Jackson. Over the next few years they lived in West Africa and made various visits to India, and these experiences helped form Ward's views on the need for Western nations to contribute to the economic development of poorer countries. For the next two decades both husband and wife travelled a great deal, and eventually their marriage suffered from this. A legal separation was arranged in the early 1970s though Ward, as a Catholic, did not want divorce. In 1976 when she was given a life peerage she used her estranged husband's surname for her title as Baroness Jackson of Lodsworth.
Ward had recovered from cancer in the late 1940s thanks, she believed, to the spiritual support of Padre Pio. The illness recurred twenty years later but surgery did not cure her. In 1973 she retired from Columbia University where she had been Schweitzer Professor of Economic Development for the previous five years and went to live in Lodsworth, Sussex. The next year she was made a DBE, and in 1976 a life peer as Baroness Jackson of Lodsworth, of Lodsworth in the County of West Sussex. She wrote her last book, Progress for a Small Planet, despite her deteriorating health, discussing the "planetary community", dwindling resources used up too fast by wealthy countries, and the needs of poorer parts of the world. It was published in 1979, two years before her death on 31 May 1981, aged 67.
Pope John Paul II sent a Cardinal to represent him at Ward's requiem service. At her own request, she was buried in the graveyard of the local Anglican parish church.