Albert Schweitzer (1875–1965)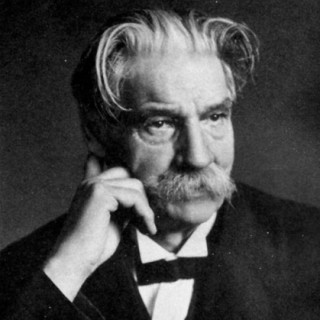 Born into an Alsatian family which for generations had been devoted to religion, music, and education. His father and maternal grandfather were ministers; both of his grandfathers were talented organists; many of his relatives were persons of scholarly attainments.
Schweitzer entered into his intensive theological studies in 1893 at the University of Strasbourg where he obtained a doctorate in philosophy in 1899, with a dissertation on the religious philosophy of Kant, and received his licentiate in theology in 1900. He began preaching at St. Nicholas Church in Strasbourg in 1899; he served in various high ranking administrative posts from 1901 to 1912 in the Theological College of St.Thomas, the college he had attended at the University of Strasbourg. In 1906 he published The Quest of the Historical Jesus, a book on which much of his fame as a theological scholar rests.
Meanwhile he continued with a distinguished musical career initiated at an early age with piano and organ lessons. Only nine when he first performed in his father's church, he was, from his young manhood to his middle eighties, recognized as a concert organist, internationally known. From his professional engagements he earned funds for his education, particularly his later medical schooling, and for his African hospital. Musicologist as well as performer, Schweitzer wrote a biography of Bach in 1905 in French, published a book on organ building and playing in 1906, and rewrote the Bach book in German in 1908.
Having decided to go to Africa as a medical missionary rather than as a pastor, Schweitzer in 1905 began the study of medicine at the University of Strasbourg. In 1913, having obtained his M.D. degree, he founded his hospital at Lambaréné in French Equatorial Africa, but in 1917 he and his wife were sent to a French internment camp as prisoners of war. Released in 1918, Schweitzer spent the next six years in Europe, preaching in his old church, giving lectures and concerts, taking medical courses, writing On the Edge of the Primeval Forest, The Decay and Restoration of Civilization, Civilization and Ethics, and Christianity and the Religions of the World.
Schweitzer returned to Lambaréné in 1924 and except for relatively short periods of time, spent the remainder of his life there. With the funds earned from his own royalties and personal appearance fees and with those donated from all parts of the world, he expanded the hospital to seventy buildings which by the early 1960's could take care of over 500 patients in residence at any one time.
At Lambaréné, Schweitzer was doctor and surgeon in the hospital, pastor of a congregation, administrator of a village, superintendent of buildings and grounds, writer of scholarly books, commentator on contemporary history, musician, host to countless visitors. The honors he received were numerous, including the Goethe Prize of Frankfurt and honorary doctorates from many universities emphasizing one or another of his achievements. The Nobel Peace Prize for 1952, having been withheld in that year, was given to him on December 10, 1953. With the $33,000 prize money, he started the leprosarium at Lambaréné.
Albert Schweitzer died on September 4, 1965, and was buried at Lambaréné.