John XXlll Kindness Award 2015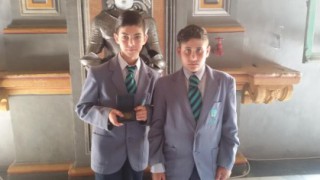 June 6, 2015
Thirteen year old Dylan Muscat, from Marsaskala was awarded the Pope John XXIII prize for kindness, an award organised by the Peace Lab since 1966.
Dylan was awarded this prestigious award for the help he has offered to his friend Kyle Agius, who has communication difficulties.
The award was presented to Dylan by President Marie Louise Coleiro Preca who described him as a role model not only for people his age but for all.
Since the boys' last year of primary school at St Thomas Moore College in Ħamrun, Dylan has taken it upon himself to integrate Kyle into his circle of friends, helping him to and from school every day, spending break by his side and helping him to cross the road.
When he was accepted into a Church secondary school, Dylan pleaded with his parents to remain in the same school, so that Kyle would not have to face the new and unfamiliar environment of secondary school on his own.
Presenting the award, President Marie-Louise Coleiro Preca said Dylan was a role-model not just for his classmates but for society as a whole.
"His efforts reflect his strong values and the quality of his upbringing," she said. "Dylan has shown himself to have a heart full of love and the maturity to choose between good and bad."
Peace Lab founder Fr Dionysus Mintoff praised Dylan for not waiting for the future but for choosing to do good in his daily life.
At a time when true happiness was as elusive as ever, Fr Mintoff said Dylan was evidence that the way to achieve happiness was not through any pre-conceived plan but through genuine personal contact.