Flame of Peace Ceremony
January 2, 2015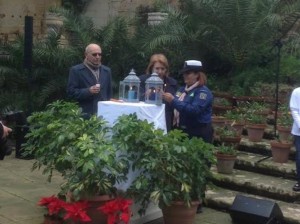 Addressing those assembled at San Anton Gardens for the ceremony organised with Baden Powell Scouts and the  John XXIII Peace Lab this morning, President Marie Louise Coleiro Preca stated that "Peace is not simply the absence of squabbling and fighting in our streets, but it is most of all about acceptance towards others." 
The ceremony which dates back to 1986, when a radio station in Austria is a symbolic gesture and a reminder of the importance and necessity of peace around the world. Every year, before, Christmas, a child is chosen to bring the flame to their own country from Vienna where it originates. This light is then used to illuminate various Christmas dinners and other religious celebrations, particularly for those who are in need, like the infirm and the elderly.
The chairperson of the John XXIII Peace Lab voluntary organisation, Emmanuel Scicluna, then said a few words about the organisation's mission and about the significance of the event. 
"The yearning for peace took root in man's heart  at the same time that man, rather than talking to his enemy and trying to find together a settlement of their dispute, decided that it would be better to use force, to follow the adage 'might is right'
Centuries before Christ was born, the Prophet Isaiah, from whose book we read a good number of texts during Advent and Christmas time, dreamt of the day when  men 'shall turn their swords into ploughshares and their spears into sickles:   nation shall not lift up  sword against  nation, neither shall they be exercised any more to war ( Is 2:4).  But man's greed and his thirst for power  have smothered this dream and we have witnessed and still witness war and violence all around us.
Yet that dream is still in our minds and has taken root in our hearts. That is the reason that today we have gathered here  around the 'Flame of Peace'.  We hope that its light will enlighten the minds and hearts of the world leaders so that they will forget about war and seek peace.  Her Excellency the President will plant an olive tree which is a symbol of peace.  We shall not eat of the fruit of this tree, but our children and our children's children will eat of its fruit and when they pick the fruit of this tree, they will remember this day when we gathered here and prayed that all mankind lives in harmony.  Because that is peace – harmony: where each and every one has his/her place in this world that God created for us to tend. Let us pray  therefore with Saint Francis;'Lord make me an instrument of Thy peace."